It may take a while to cover most of the cities in Canada, so I have created a page with National Charities that have a reach to many cities across Canada.
If you don't see your city listed in the top drop menu, next to your province's name, check out these charities and search by postal code/city on their website.
---
CANADIAN DIABETES ASSOCIATION
You can call us toll-free from anywhere: 1-800-505-5525
Donations of sports equipment, clothing, toys, kitchen utensils, printer cartridges and cell phones. Note that items will be sold to Value Village to raise funds for the Canadian Diabetes Association.
http://www.diabetes.ca/declutter
---
CANADIAN RED CROSS
Donations of used medical equipment, suitable to be loaned.
https://www.redcross.ca/how-we-help/community-health-services-in-canada/health-equipment-loan-program/health-equipment-donations?source_medium=google%2Fcpc&campaign=unknown
---
CAR HEAVEN (Donate cars etc. Canada wide – except a few places in Alberta are not covered.)
Contact for more information – 1-877-755-6272 or info@carheaven.ca
Note: All of the vehicles donated through Car Heaven are strictly recycled and never go back on the road. Minimum $100.00 tax receipt from the charity you choose from their list. Car Heaven will pick-up (but not from an alley or underground garage).
---
FOOD BANKS THROUGHOUT CANADA (Locator by Postal Code/City)
Locate the food bank closest to you:
https://foodbankscanada.ca/Get-Involved/Support-Your-Local-Food-Bank.aspx
Food Banks Canada works with 550 food banks and more than 3000 food programs across Canada. Please call your local food bank before visiting.
---

GUITAR DONATIONS CANADA WIDE – GUITARS FOR VETS
Your donation of a guitar can help change the life of a veteran in need.
Do you have an extra guitar that hasn't been played as much as it should? Please consider donating it to Guitars for Vets, where it will be recruited to play a lead role in the music rehabilitation programming for a veteran who needs it most.
Drop-off locations: Guitars can be dropped off at any Long and McQuade music store across the country. See here for more information:
http://vetscanada.org/donate-a-guitar.php
Thank you
---
HABITAT FOR HUMANITY (Donations of used building material such as cabinetry, light fixtures and more.)
See if there is a ReStore location near you: https://www.habitat.ca/restore
---
RECYCLE MY ELECTRONICS – Do you have electronics that have reached their end of life? (A not-for-profit organization)
Drop off locator:  www.recyclemyelectronics.ca
British Columbia, Saskatchewan, Manitoba, Ontario, Quebec, New Brunswick, Nova Scotia, PEI, Newfoundland and Labrador
News article from The Star https://www.thestar.com/sponsored_sections/2018/04/16/five-things-most-people-get-wrong-about-recycling-electronics.html
---
THE SALVATION ARMY THRIFT STORES
Locator: http://www.thriftstore.ca/locations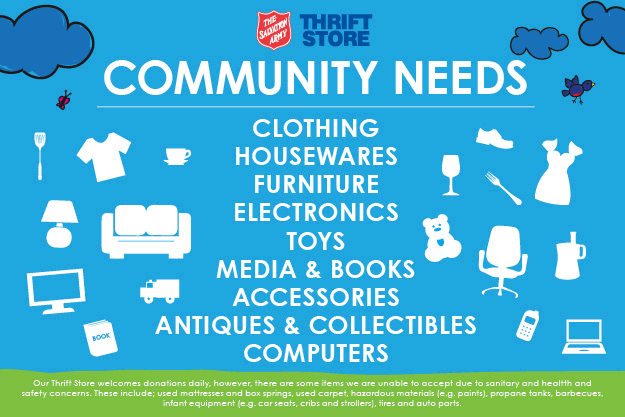 ---
TOY MOUNTAIN
---