HABITAT FOR HUMANITY – HALIFAX
The ReStore is a building supply and home renovation store that accepts and resells new and gently-used building materials and home décor items. Proceeds from The ReStore help fund Habitat for Humanity Nova Scotia.
---
HALIFAX TRANSITION HOUSE ASSOCIATION OF NOVA SCOTIA  (Bryony House)
If you would like to donate large items, such as appliances or furniture, please call 902-423-7183 ext 2 to speak with our Household Coordinator.
https://www.bryonyhouse.ca/contact/
Facebook page: WishList: https://www.facebook.com/permalink.php?story_fbid=1869517736433815&id=159269017458704&comment_id=1874753085910280&notif_id=1525698310708779&notif_t=feed_comment&ref=notif
Our Urban Closet Wish List needs change regularly (based on season, numbers and ages of residents etc.) e.g.: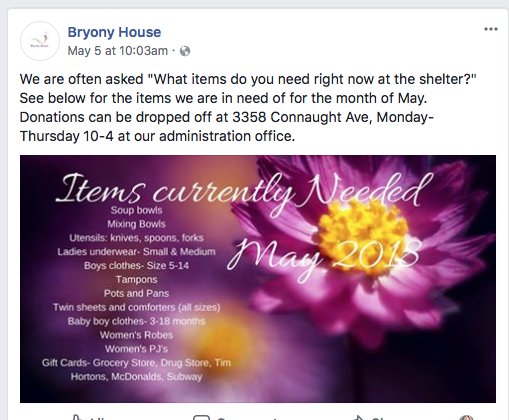 ---
---
---
HAND IN HAND (Society of Saint Vincent de Paul)
Instagram: Hand in Hand
Telephone number: (902) 477-7744
Drop off at side door. Except for larger items, call in advance.
440 Herring Cove Road, Halifax, NS B3R 1W4  Map
---
SALVATION ARMY THRIFT STORES 
Air Conditioners
TVs
Computers
Wish List (what accepted/not accepted):
http://www.thriftstore.ca/nova-scotia/donating-goods
Halifax Drop Bin Locations: http://www.thriftstore.ca/nova-scotia/
7 Thrift Store Locations (drop offs): http://www.thriftstore.ca/nova-scotia/locations
To arrange a furniture pick-up, please contact 902-455-3196.
---