WHERE TO DONATE USED MUSIC INSTRUMENTS, LIKE GUITARS, VIOLINS, ETC.
GUITARS FOR VETS (GUITAR DONATIONS CANADA WIDE)
Your donation of a guitar can help change the life of a veteran in need.
Do you have an extra guitar that hasn't been played as much as it should? Please consider donating it to Guitars for Vets, where it will be recruited to play a lead role in the music rehabilitation programming for a veteran who needs it most.
Drop-off locations: Guitars can be dropped off at any Long and McQuade music store across the country. See here for more information:
https://vetscanada.org/english/guitars-for-vets
Thank you.
---
ORKIDSTRA
"Give your instrument new life!

OrKidstra happily accepts all instruments in good working order. We provide a tax receipt for all instrument donations accompanied by a current appraisal.

Please note: OrKidstra does not accept pianos. Please contact [email protected] if you have additional questions.

Instrument wish list

All band (wind and brass) instruments especially trumpets, trombones and saxophones
All string instruments especially full size and ¾ violins
Upright and electric basses"
---
OTTAWA PUBLIC LIBRARY – SPECIFIC TYPES OF INSTRUMENTS, LENDING LIBRARY – Percussion and Stringed instruments only (no wind instruments)
This info is being updated. More details to come.  https://biblioottawalibrary.ca
---
RIDEAU-ROCKCLIFFE RESOURCE CENTRE
Donate Used (and New) musical instruments and they will distribute to local Canadian charities in need (they deal with over 214 recipient agencies.) (Yes, they sometimes accept pianos, ask.)
Main website: https://www.crcrr.org/
Their donation info & contact page (linked from their main page: Gifts in-kind Ottawa – https://giftsinkindottawa.ca/
Mr. Ahmet Kapici
Project Officer
Email: [email protected]
https://www.crcrr.org/
Phone: 613-745-0073 x 104
Address (but please contact them before donating to make arrangements/confirm they can take your donation):
CRC Rideau-Rockcliffe CRC
Unit 3 – 815 St. Laurent Blvd
Ottawa, Ontario K1K 3A7
___________________________________
ST. BRIGID'S SUMMER CAMP 
Is in need of new or lightly used items. Please contact St. Brigid's if you would like to donate.
Musical instruments (guitars…)
Arts & Crafts (paints, brushes, markers, crayons, jewlery making & beads, any type of decorative crafts (feathers, foamies), scissors…)
Games (Chess, cards, checkers…)
You can leave a voice mail or e-mail message at anytime. We are available in person Monday-Thursday 5pm-8pm. All messages will be returned within 24 hours.
St. Brigid's Summer Camp
PO BOX 17 STN MAIN
STITTSVILLE ON K2S 1A2
Tel: (613) 742-8160
E-mail: [email protected]
Fax: (613) 435-4653
Charity Number: 131 77 2451 RR0001
Website: http://www.stbcamp.ca
---
SAINT VINCENT DE PAUL – THRIFT STORES
Accepts musical instruments (but not pianos and organs).
Drop off possible at the Ottawa thrift stores & home pick-ups possible.
1620 Merivale Rd., Nepean, ON  K2G 3K3
1273 Wellington Street, West, Ottawa, Ontario  K1Y 3A6
Lists of other items accepted or not see: https://thrift-store.ca/donations/donating-used-goods/
Store Locator/Contact information/Hours: https://thrift-store.ca/ottawa-locations/
---
YOUTH SERVICES BUREAU OF OTTAWA (Not a charity, but a helpful community organization)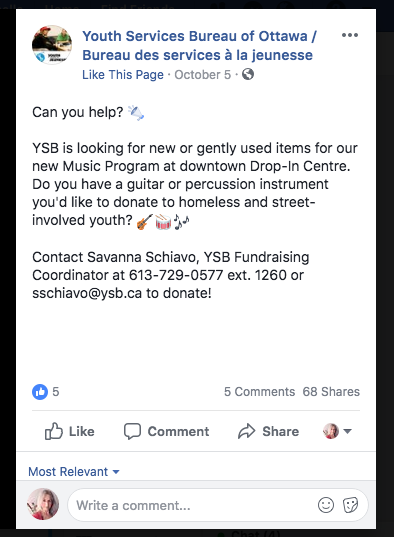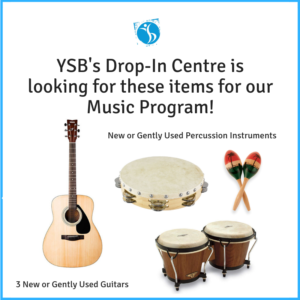 ---