WHERE TO DONATE OFFICE SUPPLIES, HOME SUPPLIES, SCHOOL SUPPLIES
---
ABILITY FIRST OTTAWA
https://abilityfirstottawa.org
Wish List
Printer Paper
Scissors
Arts & Craft Paints (non-toxic)
Art Canvas
Glue (non-toxic)
Sticky Tac
Tape (green painters)
Stickers (foam stickers)
Candle wax and wick
Crayons
Pencils (Color)
Item Donation Inquiries Contact: Christina Ranieri  T.: 613-291-5422
Drop off (call first) at Collab Space (no pickups), 70 Bongard Avenue, Ottawa, ON
NOTE: Drop off at reception with item labelled for Ability First Ottawa – please call in advance to make sure someone is there to receive it: Collab space 613-319-2025. Thanks.
---
CARING AND SHARING EXCHANGE
Website:  www.CaringandSharing.ca
WishList:  Current needs to September 2022
For further information:
Communications Coordinator, the Caring and Sharing Exchange 613-226-6434, e-mail: [email protected]
[Note: only new; not used (but maybe some exceptions if in really great condition]
---
CARTY HOUSE
WishList: https://www.cartyhouse.org/donate-items/
E.g., Cleaning supplies (toilet paper/paper towel, rubber gloves, sponges, bathroom cleaner, toilet brushes, dish soap, hand soap, laundry detergent, etc.)
Personal hygiene products (menstrual pads); see their wishlist for more info.
Contact to drop-off items: Dominique Desjardins, Program Coordinator, Carty House
Email: [email protected]
Ottawa, ON 
---
HARMONY HOUSE (The only second-stage women's shelter in Ottawa)
Contact: https://harmonyhousews.com/contact/
Donations: call 613-233-3386 to arrange for a place to meet to give your donations.
Email: [email protected]
---
HOPEWELL (EATING DISORDERS SUPPORT)
WishList: http://www.hopewell.ca/donate/
Please let Hopewell know if you can donate the following:
Books and CD's for our resource library (published after 2013) on the subject of body image, self esteem, eating disorders, disordered eating, etc.
Gift certificates to purchase books, office supplies and thank you gifts for volunteers.
Contact Hopewell
404 McArthur Avenue, Ottawa, Ontario  K1K 1G8
[email protected]    613-241-3428
---
IMMIGRANT WOMEN SERVICES OTTAWA 
WishList of items wanted in good condition:
house supplies like pots and pans, small appliances
furniture, including beds and mattresses, very good condition couches, tables, dressers
electronics including working computers, TVs etc.
washer/dryers
fridges/stoves
Note: if the distance to pick-up is long, it would be appreciated if the donor shares the mover's expenses. Thanks.
Contact either:
Shahnaz Perveen, Transition and Housing Support Worker
Telephone number: 613-729-3145 ext. 231
And/or
Christine Uwanyilgira, Settlement Counsellor
613-729-3145 ext 260
Address: 219 Argyle Street, Suite 400, Ottawa, Ontario K2P 2H4
E-mail: [email protected]
Attention Shahnaz Perveen and Christine Uwanyilgira
Website: http://www.immigrantwomenservices.com 
---
OTTAWA HUMANE SOCIETY
WISHLIST: http://ottawahumane.ca/donate/wish-list/  see for more info
CLEANING SUPPLIES 
Disposable gloves (powder free)
Bounce dryer sheets
Household rubber gloves
Laundry detergent (preferable high-efficiency or powdered)
Dish soap
Garbage bags (size 38" x 50")
245 West Hunt Club Rd.
Ottawa, ON · K2E 1A6
Telephone: 613-725-3166 x 252
Email: [email protected]
---
RIDEAU VALLEY WILDLIFE 
WishList: http://www.rideauwildlife.org/wishlist/
(See full list at link above for specifics.) Office supplies, cleaning supplies, caging materials (wood, wire mesh etc.), XLarge Rubbermaid containers, veterinary supplies, certain foods, web design and management, animal care supplies.
---
RONALD MCDONALD HOUSE OTTAWA 
WishList: http://www.rmhottawa.com/ways-to-give/wish-list/
We welcome certain house supplies, certain food items, gift certificates for groceries, movie rentals, fast food etc. Click link above to view our full wish list.
Contact information/drop off location/map : http://www.rmhottawa.com/contact/ 
---
ST. BRIGID'S SUMMER CAMP [not running 2022]
Is in need of new or lightly used items. Please contact St. Brigid's if you would like to donate.
Arts & Crafts (paints, brushes, markers, crayons, jewlery making & beads, any type of decorative crafts (feathers, foamies), scissors…)
Musical instruments (guitars…)
Games (Chess, cards, checkers…)
You can leave a voice mail or e-mail message at anytime. We are available in person Monday-Thursday 5pm-8pm. All messages will be returned within 24 hours.
St. Brigid's Summer Camp
PO BOX 17 STN MAIN
STITTSVILLE ON K2S 1A2
Tel: (613) 742-8160
E-mail: [email protected]
Fax: (613) 435-4653
Charity Number: 131 77 2451 RR0001
Website: http://www.stbcamp.ca  
---
ST. JOE'S WOMEN'S CENTRE – OTTAWA
SCHOOL SUPPLIES (please drop off no later than Aug 12, 2022)
See their website for supplies list. https://stjoeswomenscentre.org/donations/
Donations can be dropped off to the Centre, Monday to Friday from 9:30 AM – 3:30 PM
Address: 151 Laurier Ave. East, Ottawa, Ontario K1N 6N8
---
SEXUAL ASSAULT SUPPORT CENTRE OF OTTAWA  (SASC Ottawa)
We run art/support groups for women and donations of art supplies are very appreciated!
Contact
Office: 613-725-2160
TTY: 613-725-1657
Fax: 613-725-9259
Email: [email protected]
P.O. Box 4441, Stn. 'E'
Ottawa, Ontario, CANADA K1S 5B4
---
SHEPHERDS OF GOOD HOPE 
WishList:  http://www.sghottawa.com/donate-items/
Call Ash at (613) 789-8210 ext 240.  Pickups of large quantities can be arranged (check first to see if you can simply drop off your goods at 233 Murray Street at Door #3 on the north side of the building everyday between 6:30 am and 9:00 pm.)
The following items are of the greatest need:
Toiletries such as shampoos, conditioners, soaps, feminine hygiene products, razors (new), deodorants, toothpastes and toothbrushes
Men and Womens' seasonal clothing including shoes
Linens, blankets and towels
Canned and boxed foods and fresh food is always welcome (fresh fruits and vegetables)
Prepared food that has been properly stored
Bottled beverages like water, juice and soft drinks.
Mugs, bowls, plates, metal or plastic cutlery, paper cups and plates
As a special treat: Bread, Desserts and Fresh Fruit are always in high demand
MAP/Contact Info:  http://www.sghottawa.com/contact-us/
---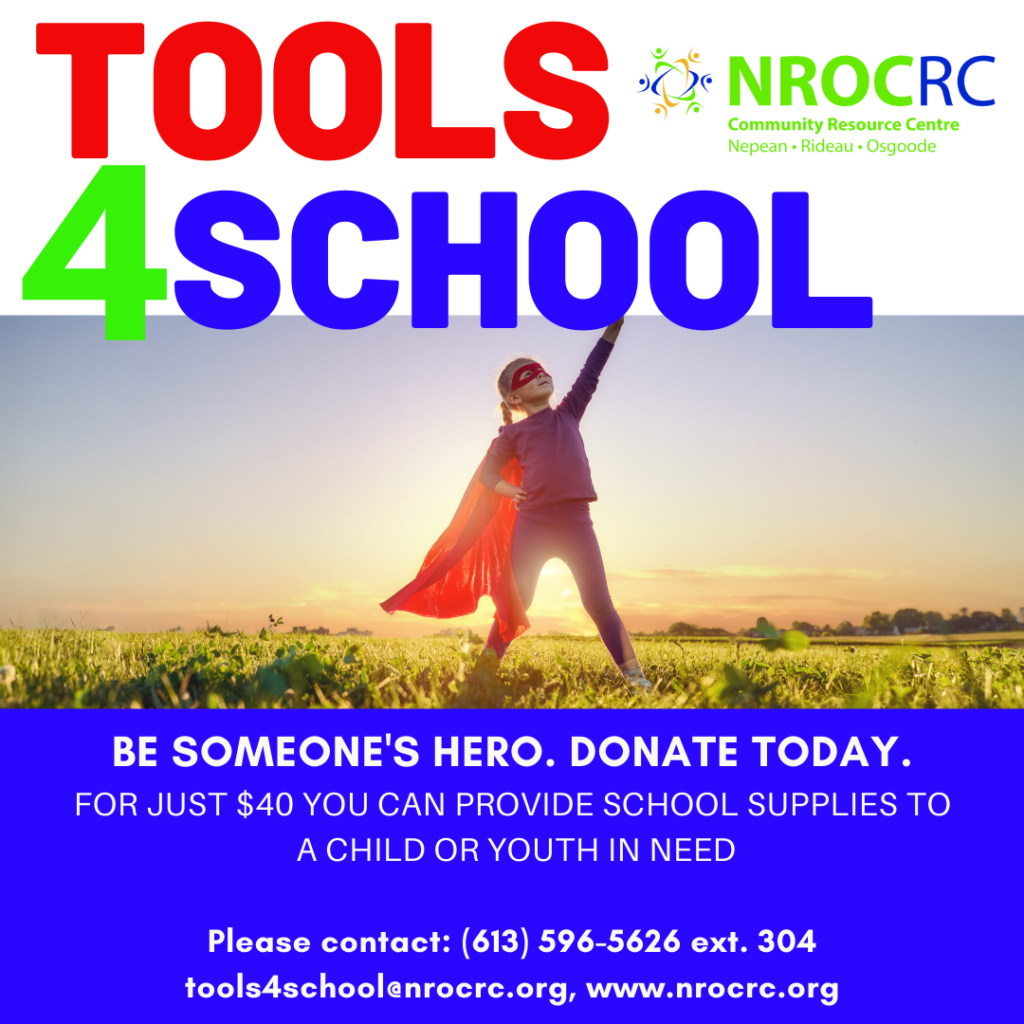 Donate new school supplies, backpacks & arts & crafts supplies.
TOOLS 4 SCHOOL PROGRAM (School Supplies & Backpacks Summer/Fall 2022)
NROCRC
COMMUNITY RESOURCE CENTRE
NEPEAN, RIDEAU, OSGOODE
"We are accepting new backpacks and new school supplies for the Tools 4 School program again this year (2022). And new arts and crafts supplies for our other child & youth programming.
(We run an after school program, parent-child programming, and an EarlyON program that we would love any donations of new arts and crafts supplies for our other child & youth programming.)"
Please call first 613-596-5626 x 304 to book an appointment to drop off new supplies at Emerald Plaza,
1547 Merivale Rd, Nepean
Website: http://www.nrocrc.org
Contact: Abir Abdullah
Email: [email protected]
---