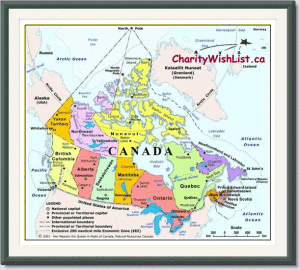 MISSION
CharityWishList.ca – Making it easier and quicker to give stuff away to Canadian Registered Charities near you; helping the environment and people.
VISION
To enable people across Canada to quickly and easily find, and self-connect, to a variety of Canadian Registered Charities near you that have WishLists containing the type of item(s) that you in that moment want to give away, to the benefit of our society and environment.
The Benefits:
Reduces the quantity of still good items from being prematurely sent to landfills by people who give up trying to find which charity wants their stuff because it is too hard to find which charities want what and when and how.
Easy access to info reduces the need to open more landfills by prolonging the life of current ones
Creates more resources for charities to distribute to their clients, helping Canadian communities meet their needs
Helps those downsizing to reduce the stress of deciding what to do with stuff that has value but they no longer need or want, and connects them to interested charities
Lessens our environmental footprint
Want to help fund the research and running of this website? It has been operating since 2005 with zero budget. Imagine what it could become if I had a real budget to work with? Sponsorship inquiries appreciated and welcome.
Thanks,
Michelle Beaupre
CharityWishList.ca