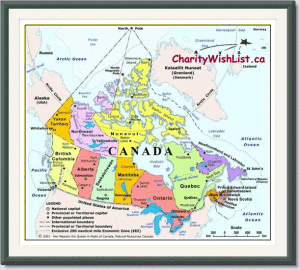 MISSION
CharityWishList.ca – Making it easier and quicker to give stuff away to Canadian Registered Charities near you.
To enable people across Canada to quickly and easily find, and self-connect, to a variety of Canadian Registered Charities near them that have WishLists containing the type of item(s) that the person in that moment wants to give away, to the benefit of our society and environment.
VISION
To maintain and grow www.CharityWishList.ca so that more cities and Canadian Registered Charities in Canada are included.
WHY CharityWishList.ca?
If it is too difficult or time consuming to find a charity that wants the type of item being given away, it may end up in a landfill even if the item could have still had a lot of use left in it/is only gently used.
CharityWishList.ca helps make it easier and faster to find interested charities that want what the donor wants to give away.
BENEFITS 
Landfills won't fill up as quickly if we can prolong the lifespan of items, keeping them out of landfills longer.
More items for charities to give to people in need.
Charities might find that they need to rely less on government funding to meet the demands of their clients, so that's great for the taxpayer in general.
Perhaps less crime if the basics can be acquired at little to no cost through charitable organizations.
Want to help fund the research and running of this website? It has been operating since 2005 with zero budget. Imagine what it could become with a real budget? Sponsorship inquiries appreciated and welcome. michelle.beaupre@charitywishlist.ca
Thanks,
Michelle Beaupre
CharityWishList.ca