Canada Wide – MOTHER'S DAY WALK in Support of Breast Cancer Society of Canada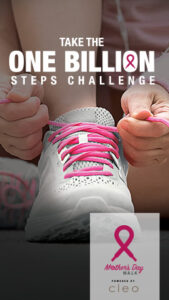 Do something good for yourself while doing something to help prevent 14 Canadian women from dying of breast cancer every day.
For almost 30 years, thousands of Walkers have participated in the Breast Cancer Society of Canada's Annual Mother's Day Walks. This year, things are different – so rather than getting everyone together, we invite you to join the One Billion Steps Challenge for Breast Cancer Research.
You can get your steps anywhere and anytime that's right for you – in your living room, on your treadmill, outside – wherever it is safe. Join us every day in May to walk, step, dance – however you want to move!
Challenge your family, friends and colleagues!
Stay active all throughout May! Our mobile app will track your ranking against the entire pool of participants and you can share your achievements on your social media channels.
There is no cost to join and we have incentives for everyone who raises more than $50 in donations.
Register today at http://mothersdaywalk.ca
Before May 1, we will send you the mobile app (iPhone and Android) that will track your steps, burned calories and active time.
PDF info:
One Billion Steps Challenge_one-pager