There are over 86,000 Canadian Registered Charities, and well over 250 cities in Canada.
Find Charities near you that want what you want to give away (pre-sorted by Prov/City/Type of item), then you contact the charity of your choice yourself to arrange for pick-up/drop off options that work for you and the charity.
Which charities near you normally want the type of items you want to give away/donate?
Want to give away, donate used or new furniture, clothes, appliances, electronics, cars, toys, sports equipment, supplies, books, food, musical instruments, pet related items, points and other stuff? This website helps you give away stuff faster, helps our environment, as well as charities and the clients they support, by helping you find which charities near you want what you want to give away - making giving away faster and easier so less good stuff is thrown into the garbage that otherwise would fill up our landfills sooner than need be. Less stuff going to landfills means slowing down the opening of new landfills. More goods available for charities' clients mean they can help more people to meet their needs. Fundraiser listings help charities meet their financial needs to help the communities they serve. Thank you.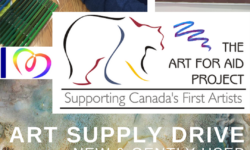 The Art for Aid Project is organizing an ART SUPPLY DRIVE, from Ottawa to Perth of NEW and GENTLY USED…