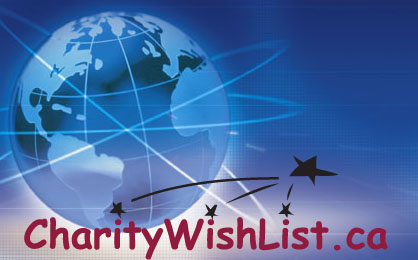 Locate and easily connect to a variety of Canadian charities near you that have wish lists that contain the type of item that you want to give away. Usually up to 14 categories to choose from.
Created, trademarked and maintained by Michelle Beaupre.
Long-term Goal
The long-term goal is that eventually all of Canada will have quick and easy access to location specific relevant information. The faster a potential donor can locate the charity nearest them that wants the particular type of item that he or she wants to donate, the greater the chance that the giver will follow through on donating something rather than tossing it prematurely into the garbage.
Benefits
More people in need will benefit by charities having access to more items to distribute; landfills won't fill up as quickly; charities might find that they need to rely less on government funding to meet the demands of their clients.
Background
CharityWishList.ca was created in 2005 and the trademark was approved in 2008.
Media / Spreading the word / Help promote CharityWishList.ca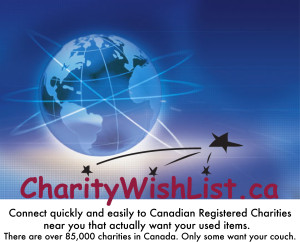 Media are welcome (and encouraged) to provide free advertising of this website without advance notice. I would love to say THANK YOU in a blog or note though, so please do let me know of your good deed. Many thanks to The Ottawa Citizen for much support over the years. Thank you to Young at Heart Newspaper for contacting me to be their volunteer profile for their September 2015 issue. Word of mouth and links from other websites are also very important and very much appreciated. Contact: info@charitywishlist.ca

Is this a business or a charity?
CharityWishList.ca is not a charity, and does not accept donations on behalf of charities. Wish list and contact information is listed and accessed at no cost to the charity nor to the person donating the item(s). It has a business license and is trademarked simply to avoid someone else registering the name, which could then prevent me from continuing with this site. Clickable Google Adsense Ads are added simply to make the website cover its own expenses such as domain name renewals, website hosting etc.
Safety Tips
Folks, please be careful when deciding who you are going to let into your homes. It's ok to ask for identification. Perhaps arrange to drop your stuff off or to have the stuff picked up outside of your home if you are going to be the only one home. The use of this site is at the user's own risk, just as using the YellowPages would be.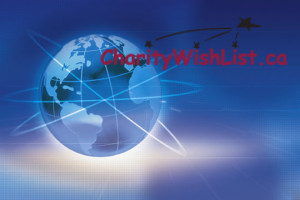 Canada Revenue Agency (CRA)
For the most part, listings on this website are limited to only those charities that have Canadian Registered Charity status. I check for this before adding listings to this website. To double check on a charity's registered status, simply go to the CRA website. Once in a while, however, I will make an educated exception and include a non-registered initiative and clearly mark in brackets next to the listing that they are not a registered charity. For example, Brown's Cleaners collects used prom dresses, shoes and accessories on behalf of Fairy Godmother Inc. in Ottawa, which helps students by lending dresses out for prom night to those who might otherwise not be able to afford to attend their prom. Fairy Godmother Inc of Ottawa does not show up on the CRA listing of registered charities. So although it is not a Canadian Registered Charity, it offers a rare and helpful service so I list them and just make a point of making sure it is clear that they are not a Canadian Registered Charity. The choice to donate items to that initiative is in the end with you the donor.
Advertising
Clickable ads at the bottom of the pages are from industry trusted Google Adsense.
Need help finding a charity near you because your location isn't covered?
If you still can't find a Canadian Registered Charity that wants what you want to give away after looking on this site, simply contact me and I will attempt to locate a charity near you that wants what you want to give away. If you are using the Comments section, please remember to check the button that will notify you when I respond to your comment. Other wise, simply e-mail me at info@charitywishlist.ca
Thanks,
Michelle Beaupre,
 CharityWishList.ca
Email: info@charitywishlist.ca & michelle.beaupre@charitywishlist.ca