Hi, let's call this piano season perhaps? Another piano available free to a charity (the charity would arrange for delivery/cover cost of moving.)
The piano is a 1956 Willis and Company Trianon model.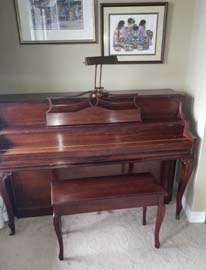 "The woodwork is in fairly good shape. My neice, who teaches piano, says it is in good playing shape, although it hasn't been tuned in some time."  – perspective donor
If you're a Canadian Registered Charity in Ottawa, and you are interested in the piano, contact me and I'll put you in touch with the person giving the piano away.
Thanks, Michelle Beaupre, Owner, CharityWishList.ca